Now that you've given your child the gift of safety, fun and fitness, what's next? Here are some helpful tips to get you started: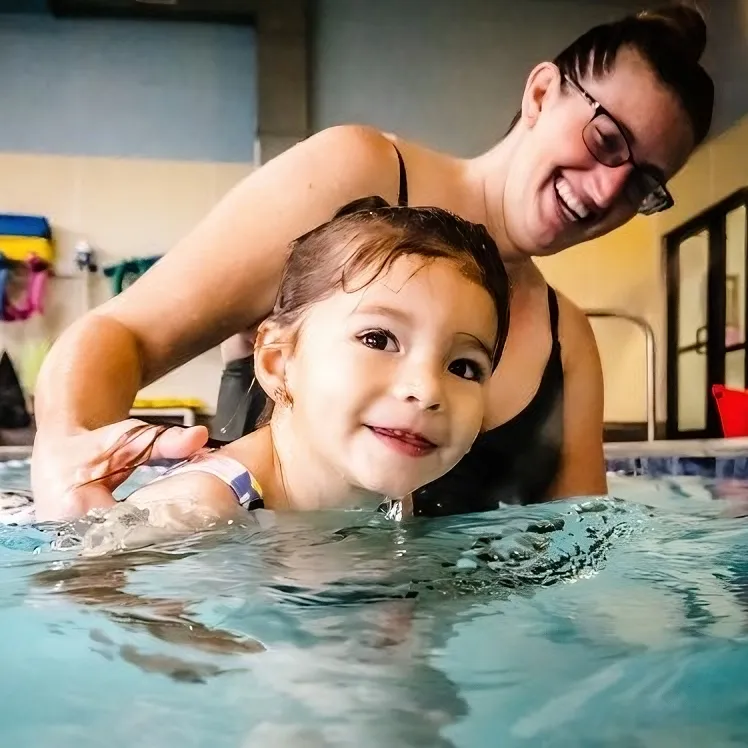 Before you leave home
Access your parent portal and agree to all policies. You will be unable to check-in for lessons if you have not already done so.
Don't forget your towel and goggles–goggles are necessary equipment!
For health reasons, all swimmers under 4 must be appropriately diapered, even if potty trained.
When you arrive
Goggles, swim diapers, and Happy Nappys are all available for purchase at our swim school.
Use our Self-Check-In Kiosks located next to the Sales Desk. Pick up your colored wristband on the way to class. This is also a great time to ask a Sales Team member about double-diapering your little one!
Our Family Changing Room is to the left of the pool. Cubbies and hooks are available for clothes and towels. Please DO NOT leave items in the changing rooms during the lesson.
The Head Coach / Coach will call children in when it's time for lessons to begin.
We require parents to stay in the facility during the lesson.
After the lesson
Your child will exit the pool to the viewing area. Meet your child there with a towel, a hug, and a high five!
Our showers are open, but we ask our families to quickly rinse off. No soaps or shampoos are allowed due to a slippery surface.
What should I expect?
Swim diaper: We require a reusable swim diaper, plus a Happy Nappy. Poop happens! Warm water can stimulate digestion, so these diapers help keep the pool clean and healthy for all of us. (Be aware that swim diapers only contain solids…don't put it on too early or you may find a puddle under baby.)
Temperature: Watch baby's body temperature. Choose a warm-water pool when possible, and even then, limit time in the water to 30 minutes.
Relax: Swimming is good, natural and fun. Your baby will take cues from you, so hold your baby with confidence, smile and enjoy your pool time! Try not to rush into class…slow down; you're never too late!
Crying is normal: Your baby may cry during their first water experience; this is a normal reaction to a new sensation. Stay calm and consistent, and after a few more exposures, your baby will adjust to the aquatic environment.
Bath time: Sing songs and explore the water during bath time. Use a washcloth or toy to drip and pour water all over their body. If feasible, try showering with baby!
Arm's length: The most important, final note: always supervise your young child within arm's length in and around water. This means bath time, pools (of any depth!), beaches, lakes…and even toilets. Keep your eyes on your baby at all times while near any type of water.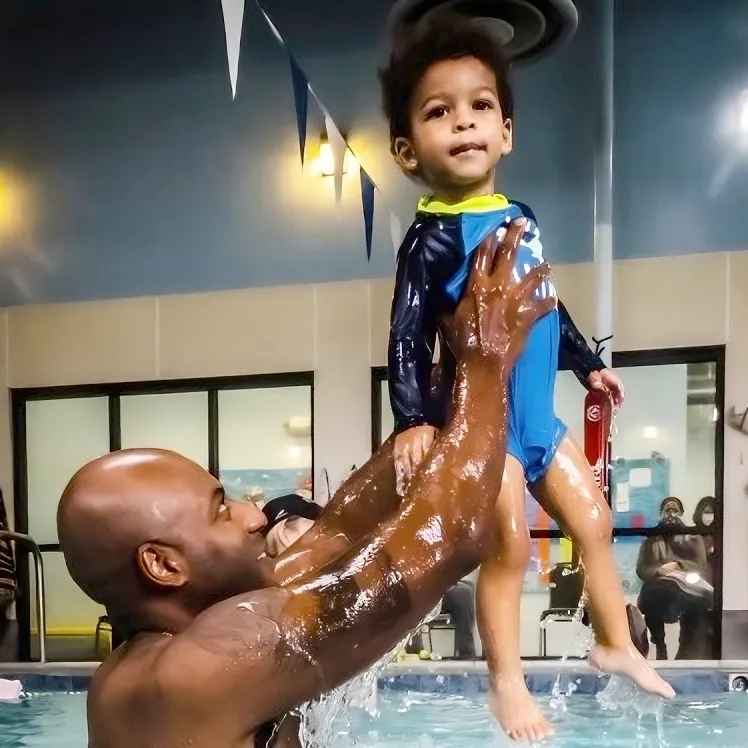 In this video Sweet Peas Lead Gwen explains what you can expect when you sign up for gymnastics classes with SwimAmerica-Davis.